It's getting worse. I always seem to start with an apology for the late appearance of a vaguely up-to-date news page, this time I've been shamed into action by somebody emailing me concerned for my well-being, worried that I may have fallen into a lathe and have been rotating aimlessly for the last three months and nobody's bothered to find out why there have been no updates. Rather touched by his concern and not a little shamed, I thought I'd better write some stuff.
Main reason for lack of news, or almost anything the last couple of months, was our preparations for Harrogate Show. By now its come and gone, I'm sure I saw many of you there - the days seemed to flash by, I'm reliably informed by my stand manager, the ever reliable Mrs P, that I talked non-stop from opening until about three every afternoon (whether the visitors liked it or not, I hear you say).
It was the first show we've done, in a burst of enthusiasm I'd decided to fill every inch of floorspace we'd got with as many engines as could be transported - in the end we managed twenty-five, ranging from a gauge 1 Roundhouse "Lady Anne" to a 4 1/2 inch scale Burrell traction engine.
This was one of those "good ideas at the time" - in actual fact, by the time that many engines had been wrapped, crated and loaded, our convoy going up the A1 looked like the fair coming to town (not to mention it taking eight hours on the Thursday to unpack and set them all out).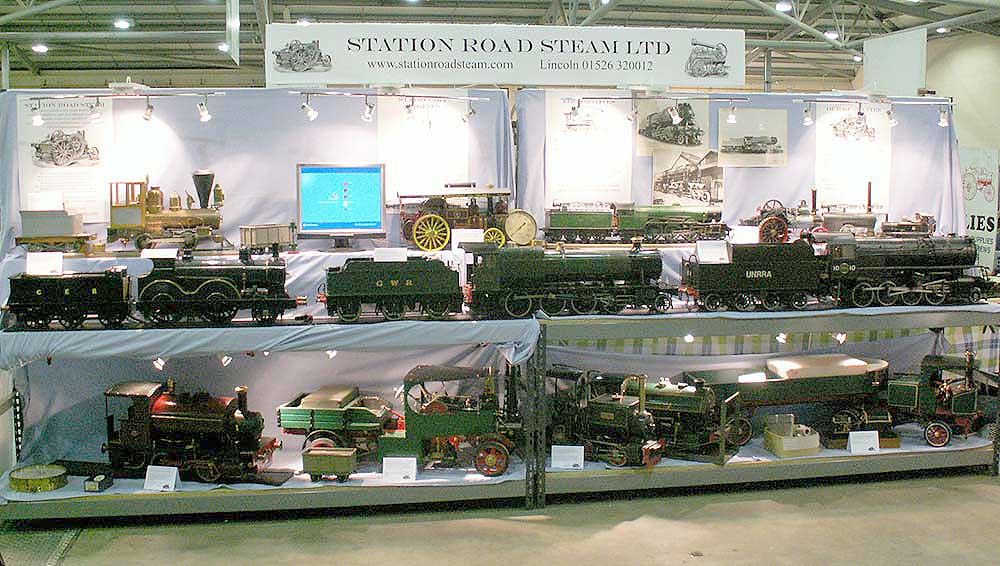 The first time we'd been to a show, the stand took about eight hours to get set up (which was about six hours longer than I expected) but only two to knock down and pack (in the pouring rain).
(My thanks to Fay and Adrian Grimmett for the pictures above, they kindly lent their camera and emailed me the resulting pictures first thing Monday morning when I managed to leave my camera battery in the office)
I think the end result was worth all the work - I rarely see the engines displayed all together, they're normally in crates all around the workshop.
As with all such undertakings, it was very much a team effort - both in the setup and during the show. I am indebted to:
Mrs P who, as exhibition manager, put most of it together - booked the stand, got the printing done, polished the engines, decided which lights we needed, made the tea, printed leaflets etc etc. whilst smiling throughout.

Jayne's father David who helped with the setup and looked after all things electrical, after which he talked non-stop to visitors for two days.

My father Eric who handed out more leaflets than the show had visitors

Number one son Sam for keeping us up to date with what everybody else was exhibiting (and thanks to Phoenix Locomotives for showing supreme patience and courtesy to a very enthusiastic though somewhat impecunious boy)

Paul who drove up 200 miles from Newbury on Friday to help on the stand over the weekend with little more than exhibition tea and sandwiches by way of reward. An accomplished clockmaker, by the end of Saturday afternoon he was talking about steam engines of all types as if born to it - we'll get him converted yet.

Martin who came down from Dumfries on Sunday afternoon simply to be on hand for two hours of hard physical work breaking the stand down and loading up in the pouring rain. Without his efforts I wouldn't have seen home before midnight, as it was we were back with everything locked in the workshop before nine that night. In recognition of his efforts, I will refrain from mentioning anything about progress on his railway for a week or two...