In the past I've often been surprised when people have turned up to see an engine at the workshop and said "oh, that's much bigger than I thought it was going to be". Sometimes they're pleased, sometimes they go away empty-handed as it won't fit in their car/shed/bedroom. Never thought it would happen to me, then before Christmas Mrs P and I went off for a couple of days to visit Kenilworth Castle and collect a Marshall stationary engine that I'd bought some time before - I'd only seen a picture of it on a pallet from which I guesstimated it at about half a ton.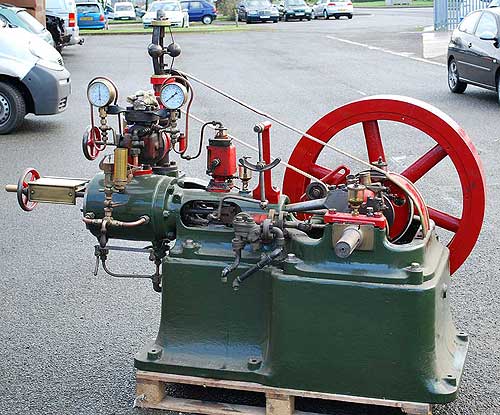 Kenilworth Castle was excellent (especially the café - memorable parsnip and ginger soup for lunch). We had a day wandering about and an overnight in a good hotel nearby before setting off the following morning, fortified by a decent breakfast, to pick up the Marshall. It was located on an old industrial estate which was interesting in its own right, it manufactured shells during the war and had a rail network running around the yard. A forktruck was whistled up and the engine emerged from a shed looking about twice the size it did in the picture - my turn to say "ah, that's quite a bit bigger than I thought..."
Fortunately there was a weighbridge at the other end of the yard, so off we trundled to find out just how much trouble we were in. As the engine settled onto the scales, all eyes went to the readout on the wall as it went through 700, 800, 900, 1000 kilograms, before finally settling at 1170Kg. So much for half a ton then. Fortunately, the van is rated at 1500Kg, so out with spanners to remove the Pickering governor, which just fouled the roof, then the engine was pushed into the back. Steady drive back home, stopping only for a couple of hours to look around the RAF Museum at Cosford - highly recommended, great museum, good tea shop, clean loos and free admission!