Some years ago I was fortunate enough to meet an exceptionally gifted engineer, a man who had spent most of his adult life building models - his name was Keith Massey.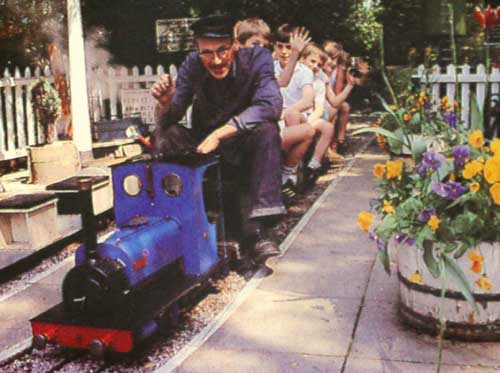 It started with a phone call from his friend, asking if I would like to buy a 7 1/4 inch gauge "Holmside" (there are pictures and more information about this engine in the archive). It was new - steamed once to set the valves, then put to one side while he got on with the next model. I arranged to go and see it so, a few days later, Sam and I arrived outside an unassuming house near Manchester, little prepared for what we were about to see inside.
The first thing you noticed was a Myford Super 7 standing in the hall - "a spare", apparently, for when his current machine (a 1953 vintage Myford ML7) wore out. We were shown into the dining room, a room whose every shelf and table, every foot of floor space was packed with engines.
The Holmside sat on a table in the middle of the floor, with a pair of 3 inch scale Burrells on the floor beside it. A 2 inch scale Aveling & Porter steam roller in a glass case was against the back wall, next to a three-quarters completed 3 inch scale Foden. On a bookshelf along another wall were rows of LBSC designs - Maisie, Olympiade, Zoe, Little Jack Horner. On the floor in a corner was a 5 inch gauge Hunslet, whilst in the front room were larger locomotives - a 5 inch gauge LNER V1, NE T1 "Netta", a superb steam crane under construction. More Hunslets - in both 3 1/2 and 5 inch gauge - and an absolutely beautiful Lynton & Barnstaple "Lew" in 3 1/2 inch gauge. A threshing machine sat next to a small table, on which was a Westbury "Centaur".
The quantity of work, combined with its quality, was breathtaking. The builder was a quiet man, for the first hour we were in the house his friend did all the talking, describing how and when engines had been made. Gradually, as the conversation meandered on, Keith started to talk about how he worked and why he started.
As a young man in his twenties he was working as a joiner when one day, walking past a newsagent, he picked up a copy of "Model Engineer". He described to me his amazement at seeing the sheer diversity of designs on offer and immediately set to on his first locomotive - "Little Jack Horner" by LBSC, a man whose designs were to be a huge influence on him.
One model followed another until, a few years later having inherited a house and modest income, he was able to leave work and dedicate himself to model making full time, seven days a week - a habit he kept up for the next forty-five years. As he progressed, many of the models were made in duplicates or small batches - two Hunslets here, three Foden wagons there, six Burrells... Some were sold, others given away, but many were kept.
After two hours looking at his models, we were invited to the workshop in his garden - a modest shed situated within a small oval of raised level track. Machinery comprised the aforementioned 1953 ML7 along with a Dore-Westbury milling machine and that was pretty much it. From this workshop, over nearly half a century he had built over fifty models.
What makes the achievement more remarkable was his habit of building everything rather than buying parts: he made the boilers, fittings, lubricators - indeed many of the models carried his own pressure gauges. His work in all disciplines was extraordinarily good - the boilers are the equal of any commercial ones I've seen, fittings are beautifully proportioned and neatly put together.
An exhibition standard Manning Wardle sitting in the house had attracted my attention - it's a rare, handsome model, very large in 3 1/2 inch gauge - which was fitted with the most beautifully made couplings. Very distinctive on the L&B locomotives, they comprise a central chopper type coupling, fitted with a large shock-absorbing volute spring.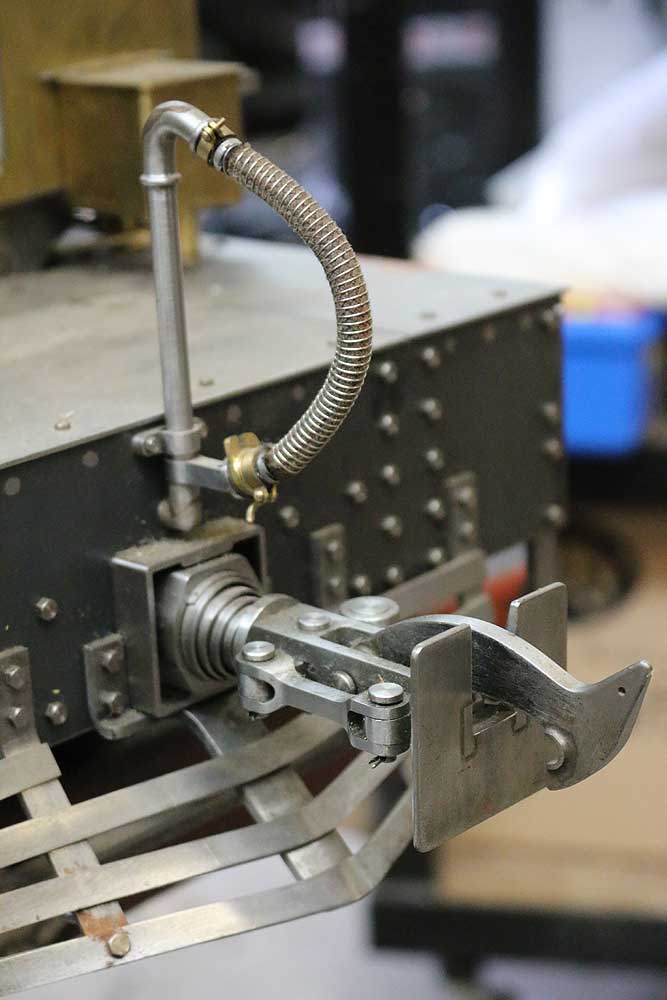 Asking him how he had made the spring, Keith explained that he had been given a few feet of steel banding by the local builder's merchant - it was used for strapping bricks to pallets. He annnealed and polished it before winding it around a mandrel to get the desired shape. It was then hardened and re-tempered - result, one true to scale, fully-working volute spring.
Some hours later Sam and I set off home, having carefully packed the Holmside. Back at the workshop the next day, we steamed the engine and ran it on the bench for an hour. It ran like a watch and remarkably, for a new engine, everything worked beautifully "out of the box" - steam pump, injector, steam brake. It was one of those rare engines that ran every bit as well as it looked. I was mightily impressed (you may have spotted that in the listing from the time), the engine quickly found a new home where it gave sterling service on the track (and we'd have expected nothing else).
Early last year I had a call to say that Keith had died, 76 years old and still building (and he never did wear out the Myford, the spare lathe remained in his hall). Over his lifetime around half the models he built had been sold or given away, the remainder he kept until the end, including:
2 1/2 inch gauge "Olympiade" 5XP

1 3/4 inch gauge "Zoe" 2-8-2

Two 3 inch scale Burrell agricultural engines (of six, built in three batches of two)

2 inch scale Burrell agricultural engine (one off, glass-cased gift to his godson)

2 inch scale Fowler BB1 ploughing engine

3 inch scale Foden steam wagon (the last of three built)

2 inch scale Aveling & Porter steam roller (one of two built)

3 1/2 inch gauge GNR Atlantic

3 1/2 inch gauge L&B Manning Wardle 2-6-2T

3 1/2 inch gauge North Eastern R1 "Miss Ten to Eight"

5 inch gauge LNER V1 2-6-2 (one of two built)

5 inch gauge NE 0-8-0

3 1/2 inch gauge Hunslet 0-4-0ST

5 inch gauge Hunslet 0-4-0ST

7 1/4 inch gauge "Holmside" 0-6-0T (one of two built)

2 inch scale threshing machine

5 inch gauge steam crane

2 inch scale portable engine

5 inch gauge LSWR Adams 4-4-0

Westbury "Centaur" gas engine
His friend kept a part of the collection, we bought the remaining engines which finally arrived at the workshop last week. Having last seen them in 2009, and with experience running his Holmside since, it was with a great deal of interest that we unloaded the engines when they arrived. None have been a disappointment: he had equal dexterity working in wood or metal, whether turning or milling, sheet metalwork or boiler making. All of the models repay close inspection - looking at the maker's ring on a Burrell smokebox door reveals that the letters have been individually fretted out and pinned to the backplate, giving a crisp definition virtually impossible to replicate with a casting in this scale; 4BA gland studs on his locomotives have been fitted with thin lock nuts, then cross-drilled and split-pinned; valve gear is put together with taper pins to eliminate any play in the joints.
I feel privileged to have met the man. The standard of his work was impeccable and, combined with the sheer quantity of models produced over a fifty year period - with no diminution in quality as the years went by - for me puts him in a class of his own. Whilst model engineering was a large part of his life - as well as building models he also operated the Brookside Miniature Railway for some years in the 1980s - he was a prolific aero-modeller and a maker of fine violins.