My friend Frank is an interesting man. Apprenticed at Listers, worked in all sorts of companies before starting his own business making wiring looms for all sorts of vehicles. A fine model engineer, building mainly stationary engines, he also plays with old cars. Oh yes, nearly forgot, he ran a tiny little shop called "The Honiton Model Engineer" in (remarkably) Honiton, Devon which is where I first met him.
He called me recently to say he'd bought a steam car, could I help collect it. So Frank and I hitched up the trailer to the pickup and set off for Northampton, where the car was sat on the owner's patio. By his own admission he knew nothing about it but - fear not - the builder lived locally and was on his way round.
And so it was we passed a memorable hour in the company of a man who, having built two steam cars, was now well on with his latest project, a steam motorcycle with sidecar. Never did get to see that one, to my great regret.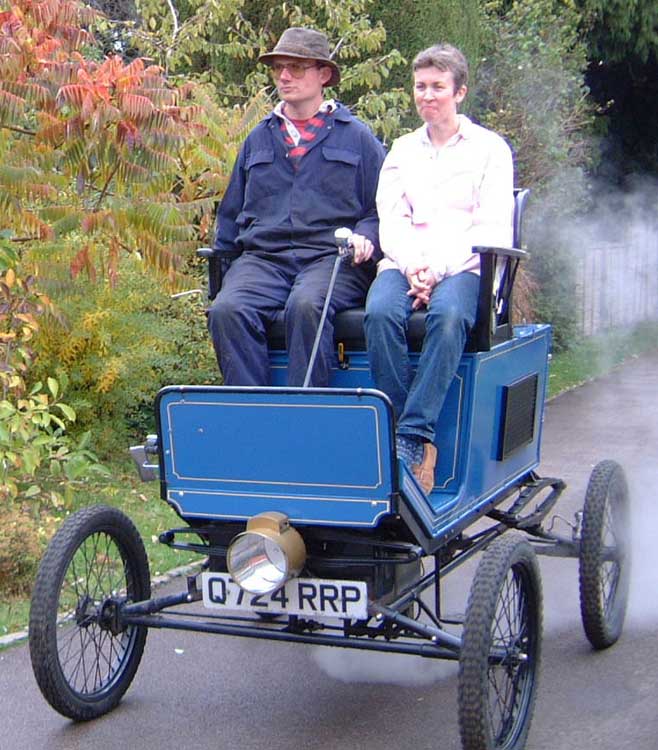 We loaded the car up and took it home to Lincolnshire. Frank lives in Scotland, so it was arranged I'd recommission the car and test the boiler, use it for a few months and then deliver it up to him next time I was going in that direction.
Suffice it to say we had a lot of fun with the car, rather sad to see it leave. It's pictured here the morning of the Metheringham Feast, where we led the opening parade with the local radio "celebrity" who'd come to officiate. Fortunately a slightly-built gentleman, there's not a great deal of room up top of one of these things.
Nearly forgot - a brief technical rundown:
Replica of an 1899 Locomobile steam car. Vertical multi-tube boiler, fired on 28 second heating oil. Twin cylinder simple expansion engine, chain drive to rear axle, with differential made from reworked Reliant Robin parts. The disc brakes on the rear axle are a welcome concession to modern traffic.
Working pressure 170 psi, achieved in 12 minutes from all cold. Cruises very nicely at 20mph, the builder had it up to 35mph "with more in reserve" before be bottled out. 7 mpg of oil, 3/4 mpg of water.