I had the pleasure of meeting a most interesting gentleman recently, a man still putting in eight hours a day in the workshop at the age of 82 (in a collar and tie), with an impressive list of models to his name built over the last forty years. He spent his working life as a professional engineer, working both here and abroad, first in Canada, then a twenty-seven year stint in New Zealand. Currently working on a steam fire engine and a well-advanced 5 inch gauge Hunlet to Don Young's design, over several hours talking to him I learned more tricks and wrinkles in a couple of mornings than I'd picked up last year from anywhere else!
His workshop at the bottom of the garden is compact, warm and well-lit. In what I've found typical of a professional's workshop, the ratio of tooling to machines is high - the walls were lined with racks of drills, taps, dies and assorted accessories, he is happy to tackle anything on an engine, still building his own boilers (indeed currently helping out a friend with a "Maid of Kent" boiler) as well as putting in a day each week working at the club track.
He first started building steam engines at forty years old with a 7 1/4 inch gauge Bassett Lowke LNWR "George V" with rivetted Goodhand boiler which he'd acquired. Since then the workshop has seen Don Young's Hunslet and Rail Motor in 5 inch gauge (with another Hunslet currently under build), 4 inch scale Allchin with Ransomes threshing machine ("the traction engine was a swine, five years and 4000 hours"), LNER V1, Caledonian 2-4-0, 7 1/4 inch gauge "Locomotion" to Greenly's 1927 design, LSWR O2, several diesel shunters - the list goes on. He keeps a log book for each engine built with his notes and sketches, there's a counter by the workshop door which he clicks up the hours on at the end of each session.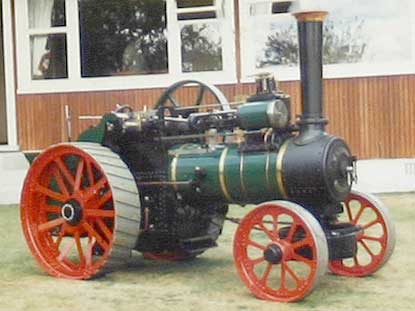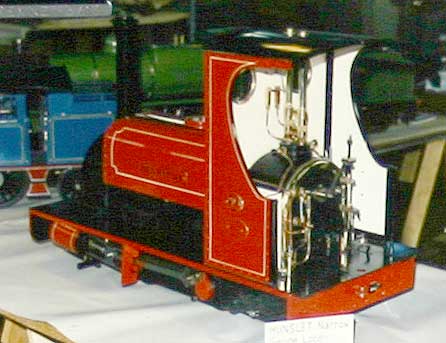 His advice for beginners includes starting on the tender of a new project first - it gets you into it gently, and improves technique for when you get to the difficult bit! Of his own work, he remains disarmingly modest - he recently took his current project to a friend's house, a man who was building the same model. On seeing 14BA studs fitted to his friend's engine, prototypically scale, he quietly left his engine in the car before taking it home to replace the practical-sized fastenings originally fitted with some minutely authentic ones.
On leaving, I was looking at the pictures on his workshop walls showing some of the engines he'd built. It included an LNER V1 in 5 inch gauge built to Martin Evans' "Enterprise" design, unusually finished in garter blue. He had built it in New Zealand and it was sold to a museum there. By one of those strange coincidences, I had bought the same engine when it came back to England four years ago - by that time the paint was rather worn and the engine had seen a good deal of use but was obviously a high quality build - it ran very well and sold to a friend in the Reading Club. A year later I bought it back and ran it myself for another 18 months, still impressed by its performance. The builder was more than a little amazed at this story, I sent him some pictures of it in recent times to let him see it was still running around, working as intended.